The Role of the Umbrella In the Evolution of the Species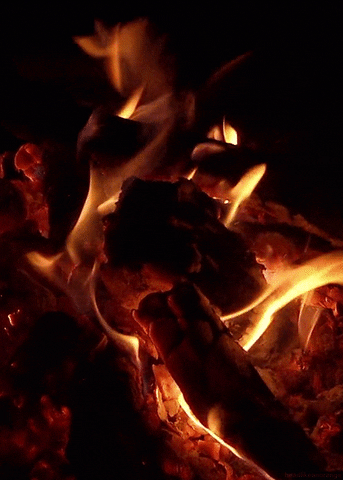 The temperature near freezing this morning, clouds muting the light, I came in from hanging a suet cake for the birds and cutting some lichen-covered limbs that had fallen; branches to burn in a firepit we have planned to kindle for Christmas. Back in the house, hands cold, and a toaster branding lines onto a piece of bread, I warmed my fingers over the warmth and wheat-scented fragrance rising from the embers of the two slot campfire.
We built a fire in the circular metal pit on Thanksgiving day. Just the very few of us who could gather, stood around the blaze sharing stories, reminiscing about past holidays, and watching chickadees and nuthatches jockeying for opportunities at the suet near which we were standing.
The leaves falling around us, a breeze picking up, and missing those who could not join us this year because of the virus, I watched the tongues of the fire as they licked smooth some of the edges of these unfamiliar days. Campfires, candlelight, and fireplaces being the sidekicks of memories, my thoughts wandered backward; the fireplace and wood stove we huddled around to save on our heat bill when our kids were young; the stone circled pits we set ablaze when our neighborhood gathered at the beach, our children laughing under the stars while blowing out Marshmellow torches and warding off the chill of the high desert, my hands reaching towards the warmth of a candle-lit lantern in a tent on the side of a snow-covered mountain, a song I sang at a camp when I was a child, the ghost and wild animal stories that made my friends and me glad we were by a fire and not alone.
I read an article that studies have found that watching campfires, flickering candles, and even videos of blazing fireplaces lowers blood pressure, puts people in meditative modes that boost immune systems, bonds people to places and periods of time, induces cognitive recall, and had – by extending the hours of pre-sleep consciousness and increasing the physical safety of prehistoric people – much to do with the evolution of the brain in human species.
An entry from an old travel journal of mine
"Spain – June 14, 1995 – 11:30 p.m.
Leslie took us to a cave system on the outskirts of a mountain village near Ronda today. The limestone caves are on a private farm. A relative of the farm's owner deputized a couple of the people in our group with lanterns before cautioning us against taking photographs, touching drawings in the cave, the slipperiness of the path that descended into the darkness, and the risk of bumping heads on the stalactites spiking and dripping water from the ceiling of the cave.
Some of the drawings in the cave were created 30,000 years ago before the last ice age and were created with charcoal from fires and red and ochre pigments from pulverized rocks.
Zigzags. Slashes. Scribbles – maybe a child was learning to draw alongside their parent? A gigantic fish. Horses running – one pregnant. Goats or sheep I think. Stylized. Magic – now you see them now you don't figures in the passing light. A  stick figure with a bow like Joel (our son) used to draw looked animated, as did a bison with horns and the legs of running horses – all enabled to move by the shadows cast by the lanterns.
At one juncture near a pool of water a firepit had created a canopy of soot on the ceiling. Figures had been scratched through the soot and into the limestone. One of the drawings scratched into the soot looked like a grove of trees surrounded by a black sky with a mandala above it – a moon with rays? Huddled around a fire beneath the freezing ground of an ice-age night and maybe learning to hum and laugh while painting stories on the walls with burning sticks and pigment dipped fingers – cinematic and visionary.
Everyone's gone to bed, but though really tired, it's too warm to sleep and I'm missing being home a bit. It's been nearly three months now. Sat outside a little while ago by myself. Drew a stick person holding a bow with my finger in the dust on Leslie and Charlie's patio table. Other forces have scratched a full moon on the sky tonight."                                                                                       
Prior to this winter I've never stood around a fire on Thanksgiving Day and reminisced about the past. This will be the first December I've ever gathered limbs with which to build a fire on Christmas day; the first year my fingers have been old enough to seek the warmth rising from a toaster. We've changed many of the ways we do things this year; everyone becoming creative in their daily lives and how they fulfill their needs to be with one another. Uphill and through the woods behind our house, mid-week, mid-rain, and mid-December, families, with doors and windows open or on their decks, can be heard talking and laughing after dark. In the cul de sac below our house children have been taking breaks from being schooled at home and have been playing ball and chasing one another around the paved circle which has usually been just a roundabout for cars and devoid of imagination. A few of their parents gathered there wearing masks themselves, around a portable firepit that flamed to life on Halloween. They talked and told stories and drank spiced rum and hot chocolate served under a canopy tent provided by a neighbor.  The children moved around the curve of the cul de sac like painted stick figures on a limestone wall, everyone animated by the light from the fire flickering and waning in the darkness of our neighborhood.
The limbs I gathered this morning were not only cold but wet, in need of a good bed of glowing embers from drier wood before they'll burn hissing and releasing their moisture in puffs of steam. In an ordinary year our family would gather from different cities, spend Christmas Eve together, meet again for breakfast and presents at one of our houses, and then come together again at our house for dinner.
But not this year.
There will be a dinner at our house on Christmas day – for a few of us – and phone calls and Facetime and Zooming with those who won't be here.  And we will have a campfire as we had on Thanksgiving, a small campfire where – as is the case near a grouping of candles or in a position by a fireplace –  no one ever feels the need to be in a hurry.
We've learned this year, that rushing and hurrying doesn't have to be the major means by which we conduct our lives. And we've learning to adapt to the circumstances that change the plans we have.
I've checked the weather forecast several times. Showers – as was always the case when living under dripping stalactites – are predicted on Christmas day.  I'll start the blaze in the firepit early with dry wood shavings and lots of kindling.   And we're borrowing some additional umbrellas.  After all of the laughter, singing, and storytelling that our ancestors went through to get us to this point, it would be a shame to drop out of the evolutionary process just because of a little rain – or having to wear a mask for that matter – and a lack of having enough umbrellas. 
Wishing everyone health and a good new year ahead!